Metro Halloween 89′
Rich Wiley
Austin, TX, US
Right place, right time. I was there to see Lost Cause. The Pumpkins were second and Jack Scratch headlined. I will never forget how blown away I was. From beginning to end. They had presence, power and most importantly…the songs. I still have my cassette of Moon.
A whirlwind of hair and sweat
Jeroen
Halle, BE
It was my first festival in 1992 I could attend in Belgium (Torhout/Werchter). Pearl Jam cancelled their show and replaced by the Smashing Pumpkins. Didn't know the band, but as from the first note I was sold to their whirlwind vibe. The week after I bought Gish on CD and a ticket to see them in Vooruit, Ghent. The whirlwind was back. I still have a shirt we ripped from Billy s body while he was crowdsurfing. (Sorry Billy, we were young I guess). The Pumpkins are a band I experienced about nine times in the 90s in Belgium and I will never forget the pumpin bass, drums and snearing guitars and voices creating a whirlwind of hair and in sweat covered bodies. It was the power of Gish.
From 70's prog to TSP
James in Canada
Hamilton, Ontario, CA
I grew up listening to 70's prog music. I loved the long, complex songs, the multi-layers and the musicianship. Although I liked a lot of music in the 80's I could not find that first love in the music I was hearing. Then in 1990 a cute girl I liked was listening to her cassette walkman in the high school cafeteria and I asked her what she was listening to. She handed me her headphones and I heard a song that did absolutely nothing for me. But the next song changed my life. I would later find out it was called 'Tristessa' and she had taped it off the radio. That song got stuck in my head right away. It had what I had been looking for: a prog sensibility. I wanted to hear more. I went to my local record store and asked about it. They were able to track down the band with the strange name and they said they could order me two releases. Those releases were the 'Tristessa' single on SubPop and the 'I Am One' single on Limited Potential. When they finally came in, I was hooked. Then the 'Gish' album soon followed, on cassette first, then vinyl (currently framed and hanging on my wall as it was signed by WPC and JC at the 20th anniversary show at Massey Hall). The music spoke to me throughout and it really connected with my prop sensibilities. My friends called it grunge but I called it prog. They thought I was crazy and they moved on from TSP, but I have been here ever since. I saw the band live for the first time in 1991 and I have not missed a TSP or WPC tour since.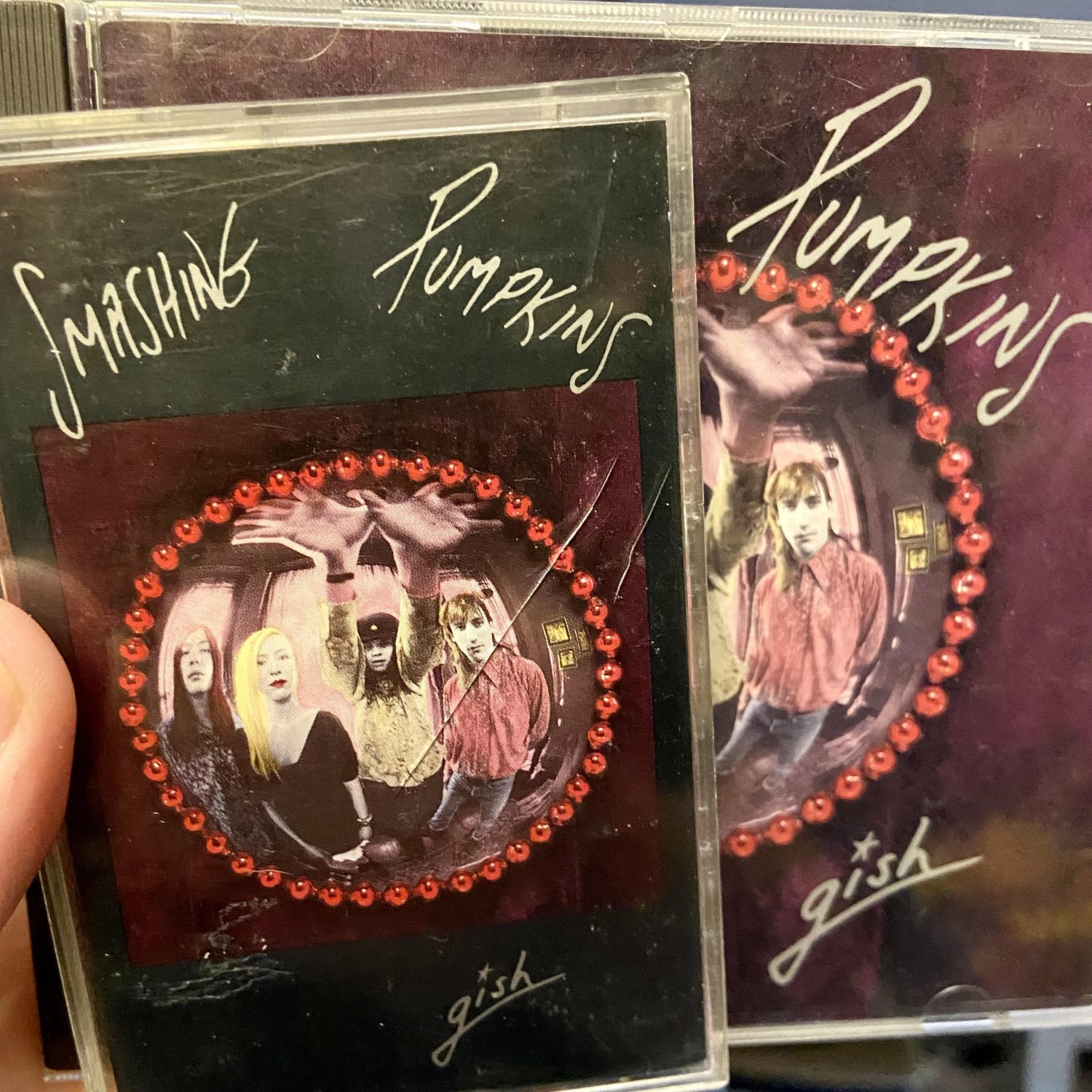 Forklift Jesus
James Brown
BIRMINGHAM, AL, US
July of 1991, I was in my first year slinging salmon in Anchorage, AK – a summer job to pay for college in Alabama. Forklift driver was the golden job, because you got to sit down, instead of standing all day. Plus the driver always had on headphones, and was always jamming out to something. (I assume OSHA frowned on this, but we were kids.) Anyway, one day that summer, Mr. Forklift paused, slapped the 'phones from his sport Walkman on my ears, and said "Dude, listen to this." It was Gish. And my brain woke up that day.
After my shift, I went to the record store and bought my first copy. A tape. And I listened constantly throughout the summer to my new favorite album, and what turned out to be my favorite band of all time. I picked up the CD once I was back at school, then Lull, and so on. Over the years, I've been lucky enough to hang with the band, see a bunch of shows, and hear and love a ton of great music. All thanks to Forklift Jesus.
I love Gish
Peter
Porsgrunn, NO
I heard Gish, and I loved it.
Rapha Forever
Jorge
Madrid, ES
It was April 1997.
I was 13 and I already discovered the band through The Mellon Collie and Infinite Sadness the year before, which became my first cd ever.
A friend of mine also liked The Smashing Pumpkins as much as I do and I lent him my Gish cd.
Me and my friends were waiting the bus that would pick us up to head a skatepark. While we were waiting, after a trick try, my friend's skateboard went out of control crossing the road so my friend ran after it. All of the sudden, a car hit him and he passed away.
A few days after this fatal accident that marked us forever, some of my friends went to his mother house showing care and respect. She gave them back some stuff he borrowed from us as video games, skateboard magazines, VHS tapes, couple of cds… Gish was among the items.
His name was Rafael.
The Gish break-up vinyl.
3ric 3acon
Seattle, US
Bought this back in 2006. First pressing of Gish, signed by the band the week D'arcy and James broke up. The band mentions it in their signatures, D'arcy says she's single. Billy says disaster on it. The record was signed at Tower Records in LA, they were doing a radio interview. The journalist wrote the notes on a piece of paper using the record as a hardback, so you can see the indents of the notes taken still. Later, in my own break-up, the record cover got torn apart, but I taped it back together, and I still have it in a frame. If y'all want a closer shot of it, I'd be more than happy to send. It's a piece of band history that changed the direction of who showed up to practice and when, ya know?
Free Gish concert!!!!
Robert Stoltz
The Woodlands, US
August 9, 1991: First time I saw the band was in Houston at the legendary old Emo's. It was an unforgettable small venue experience where I was able to see the band up close and personal for what I think was them performing their best album as of today (Siamese Dream is a close second lol). Gish is one of those releases that would make my list of albums I'd have on a deserted island!!!
change
jeff
US
i was a metalhead, sabbath, priest, megadeth, metallica, etc. i did mushrooms and went to the Moon bar in New Haven and heard songs from a new band called smashing pumpkins. went to Cutlers Records and bought GISH the next day. Instant fan, it sent me down the road of janes addiction, nirvana, pearl jam, pixies, cult, cure. 80's alt music. forever thankful Billy C and SP opened my eyes to so much great new music. Lights go out in Hartford Civic Center, fans cheer for a while, a spotlight shines on this giant man dressed in all silver on stage as he sings "the world is a vampire," one of my favorite concert moments. Thanks for Gish !
I was there
Brad
CA, US
Critical music during that era- never heard anything like it. The lyrics, dynamics, the drone, the volume- all made it amazing.
Staring at the Ceiling
Helena Handbasket
Cape Town, ZA
13 years old. Lying on the floor in the dark, eyes closed. My first listen to Gish. Everything felt so uniquely and dramatically raw.
Still, to this day, 30 years later, I still feel that "all that you suffer is all that you are" and I am so glad I found the Pumpkins at such a young age.
Gish Rocks!
Dan
Manchester, GB
I was given Gish as a 17th birthday present. It really blew me away and made me want to join a band. It was like Guns and Roses but at the next level. It really got me through some difficult times at school. Thanks so much SP!
Dorm room
David
Mismi, US
I clearly remember my buddy Chris and i playing Gish for the first time in my dorm room during my first term at Cornell… instantly entranced… as a drummer, I was instantly blown away by Jimmys smoothness and fills…and the sonic dynamics drew me in…
6 months later seeing them in a small club back home in Miami Beach Art Deco district was the icing on the cake!
Thanks for the memories!
Discovery and thank you
Kara Tsukerman
Atlanta, GA, US
I wasn't planning to participate in this because I don't have any distinct Gish memories. I became a fan in 1995. However, I listened to Gish and celebrated in my own way all day today and I was brought back to 1995. After buying MCIS at 12 and it completely changing my young (and future) life, I couldn't wait for more SP. I quickly acquired Gish, Lull, and SD in a matter of weeks and started listening to all at the same time. I only remember hearing Gish and not understanding how it was a first album. I recognized it as a magical piece of art and I remember being shocked at how good it was and how much I loved it. I will turn 38 next week and do not have any words to express how much Gish means to me, along with every other album through Cyr. Thank you for being the music of my life. Being your fan has been such an honor.
Subway Poster
Bryan
Portland, US
I once owned a 5′ subway poster of the Gish album cover which adorned the walls throughout my college days – I fucking loved that poster and my parents through it out with the rest of my college shit when they moved – wish I had a pic!
Vesuvius and Moonlight
Lisa
West Chicago, Illinois, US
I had insomnia, and took to to the streets after midnight in my Camaro, the passenger's seat overflowing with cassettes and joints rolled in my purse. One night I was past DeKalb after 1 A.M. and heard 'I Am One' for the first time on WXRT. I grew impatient for the DJ to name the band and the song, for I've never heard such explosive frustration layered with longing passion and electricity. My mind and my heart simultaneously exploded when hearing the opening drum beat which was shortly followed by an alluring bass line. Next came the guitars that artfully weaved together and played off of each other like two cobras swaying to a Pungi. From start to finish, the intensity of the song didn't cease but when it finished, I was left with my heart pounding and with sweat on my forehead wanting to hear more. As I kept driving several thoughts were colliding in my head-First, I needed to fire up a joint, second I needed to go to the record store in the morning to get a copy of 'Gish' (the first of three copies that I wore out), third I knew that Smashing Pumpkins were going to be famous, and fourth I knew that my life would never be the same again.
Opening act
Tim
Redway , US
Saw the video for Siva premier on 120 min, bought the album that week and loved every song, then my bro and I went to see you and Pearl Jam open for the chili peppers at the palladium in Warwick RI. We dropped acid and we're in the pit and billy starts talking about caterpillars and the cauliflower king plays windowpane and blows my mind! Was one of the best shows I ever seen!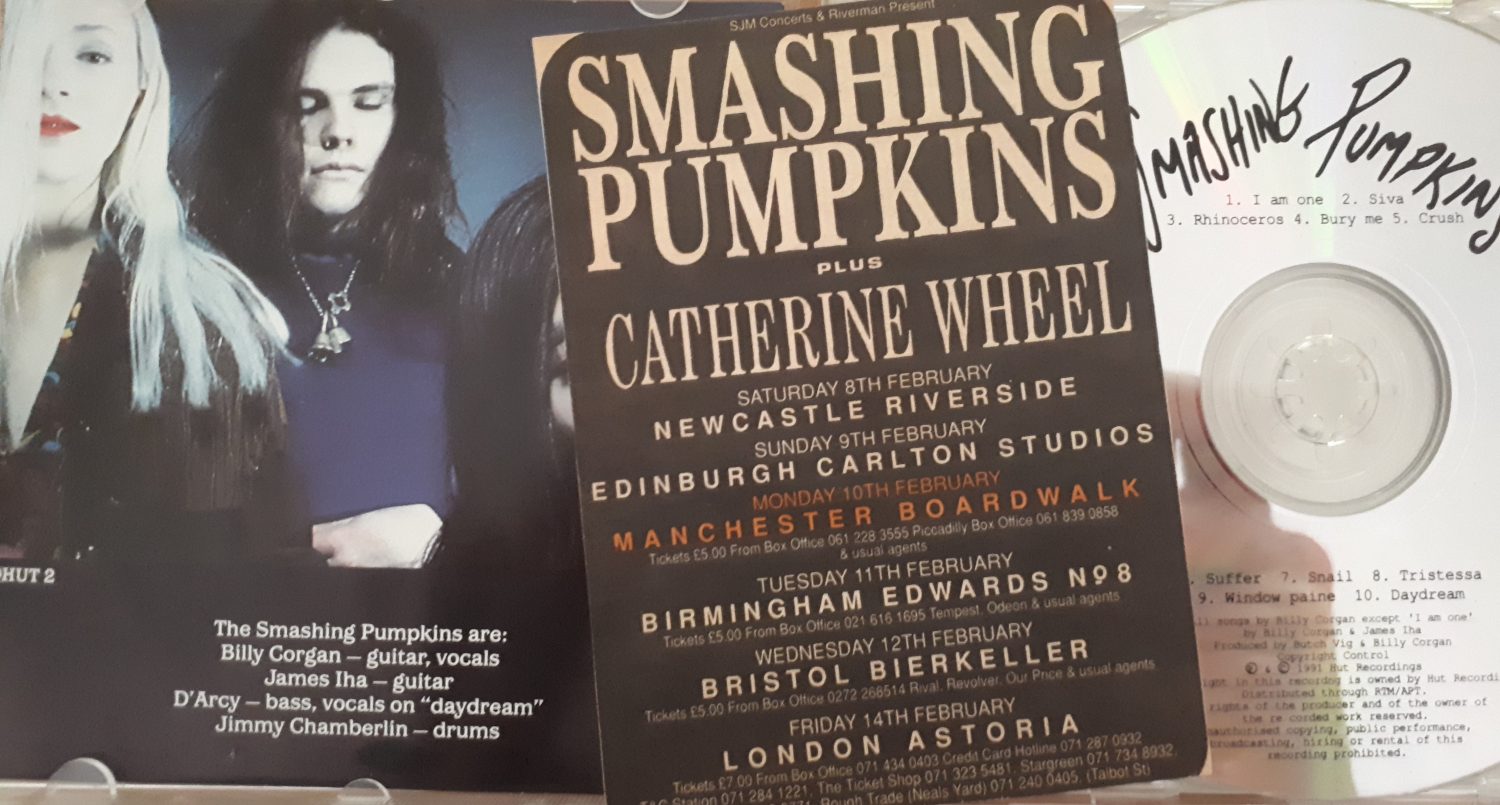 SONIC!!
Derek Loud
Johannesburg, ZA
The Gish tour. Its 30 years since the album release and I remember a friend recommended the band. It was such a great debut album and we played it constantly. I was with my two friends when we got some tickets to see them in 1991 in Manchester. We went for a drink at the bar next door and Billy was being interviewed for the local press. We introduced ourselves, had a chat and took some photos. Billy was very cool and friendly. The gig was amazing… sonic bliss. It was a small venue in Manchester and you knew the band was going to be something. Every song was amazing and the gig rocked. One of the best live bands at the time, it still is one of my favorite gigs from my youth. I'm still friends with two people I went with, in fact we all went for a few drinks last night to celebrate. Sonic gig! really sonic!
Missed opportunity
Bradley
Memphis, US
I was a DJ at my college radio station when Gish was released. We played every song on the album. I had free tickets to see them at 328 Performance Hall in Nashville on that tour and I didn't go because I was hung over from the night before. Smh.
Listening Party
Tony Lee
Columbia, SC, US
300?! There's no way, but I'll try to edit…ruthlessly. House party in the summer of 1991…my room…Gish left on repeat as an escape from the chaos. Told a friend to check out this CD I just got. "Crush," "Suffer," and "Snail" set him up for the mind-blowing "Tristessa." He STILL talks about the impact of that listening experience. THANK YOU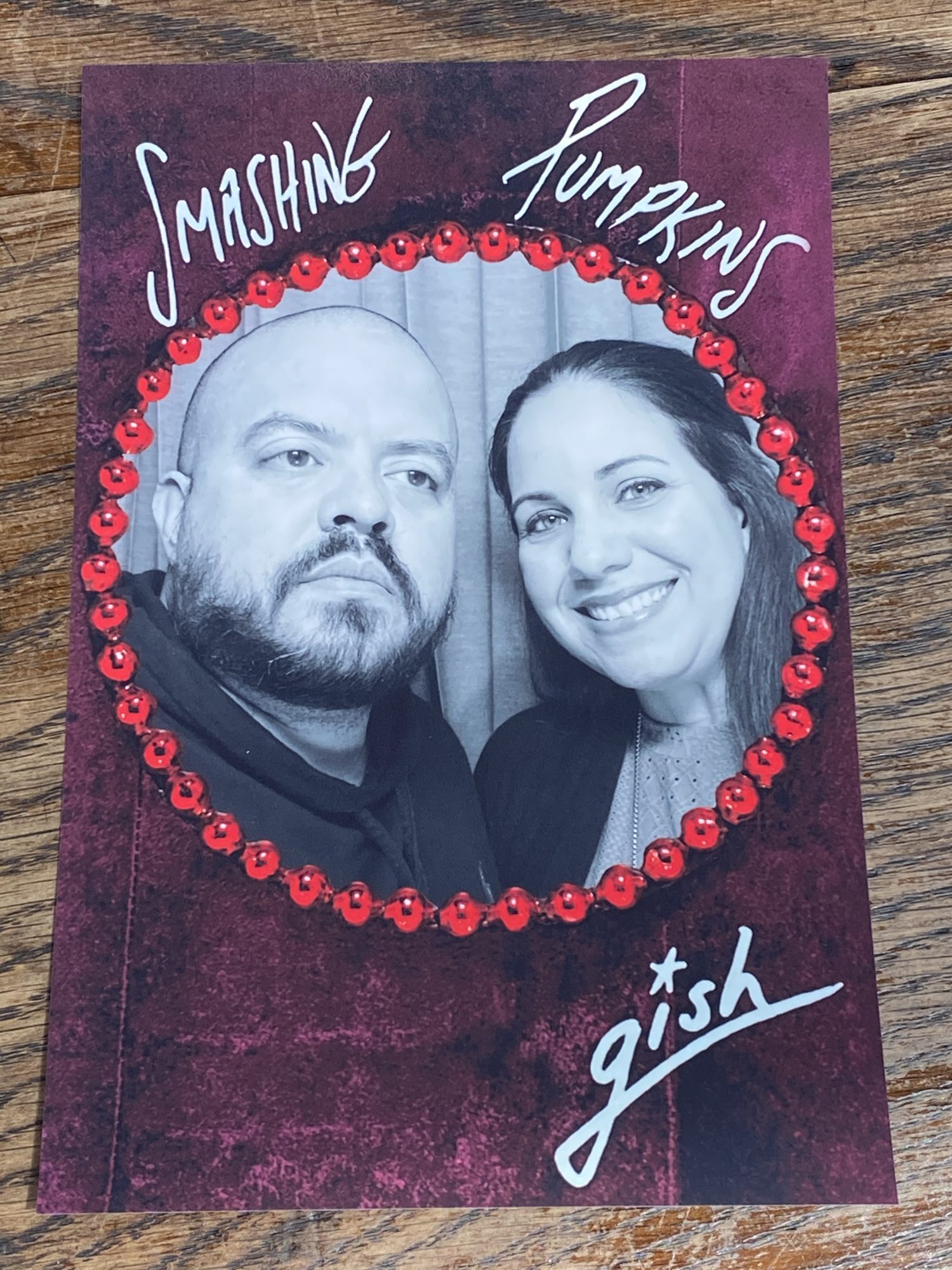 Gish & My Musical Soulmates
Jennifer Orellana
Miami, FL, US
"When I think of Gish, I can't listen to the album without pure gratitude. I feel it's such a beautiful & fun debut album. The songs from Gish lifted some of the "heaviness" of my adolescence. When I first discovered it, I couldn't get enough. I remember playing it in my car, in the shower, in my bedroom… falling so deeply in love with the guitars, the drums, lyrics & the whole album. It helped me daydream, it helped me escape & it brought me joy . I'm geeking out for the Gish 30 celebration but for me it's the 30 years of Pumpkins. It's getting through alive in spite of all the heartbreak, depression, questionable choices… and beating cancer. I jam to Gish celebrating "I'm still here!" My husband and I have been through so much since we were kids & were still in love with each other & with SP music. We have a beautiful family (4 kids!) & I know my life wouldn't be what it is today if it weren't for this band's 30 years of beautiful music. WPC / The Smashing Pumpkins, my musical soulmates, have saved me so many times." – Jennifer Orellana
Just my luck
Erik Banck
Gothenburg , SE
When me and my friends first heard Tonight we all bought MCAIS and became huge fans! But since we didn't had a lot of money we had to buy one album each to cover the whole catalogue. I had to buy Gish and was disappointed at first but the songs, the straightforward sound an JC's drums really got to me. Today I love the album! To me Gish is like Siamese Dreams little brother – not quite as complex, broad and deep (obvious in a way since it came out before SD and the band hadn't grown to their full potential yet). In the same way Gish is faster and has more energy. My favorite songs are tristessa, siva and I am one. I really love how the Gish songs where played during MCAIS tour – extra riffs and extended parts (especially siva). Absolutely awesome!
Gish (and Siamese Dream) live on my 18th Birthday in Miami
Larry Monteleone
Boca Raton, Florida, US
My favorite Gish memory is on my 18th birthday (August 5th, 1992). The band played live at Washington Square in Miami Beach. 2 years before Siamese Dream, they opened the show with Disarm (and played a lot from SD that we never heard before). Best show I ever saw in my life. Thank you! I do not own the youtube video provided.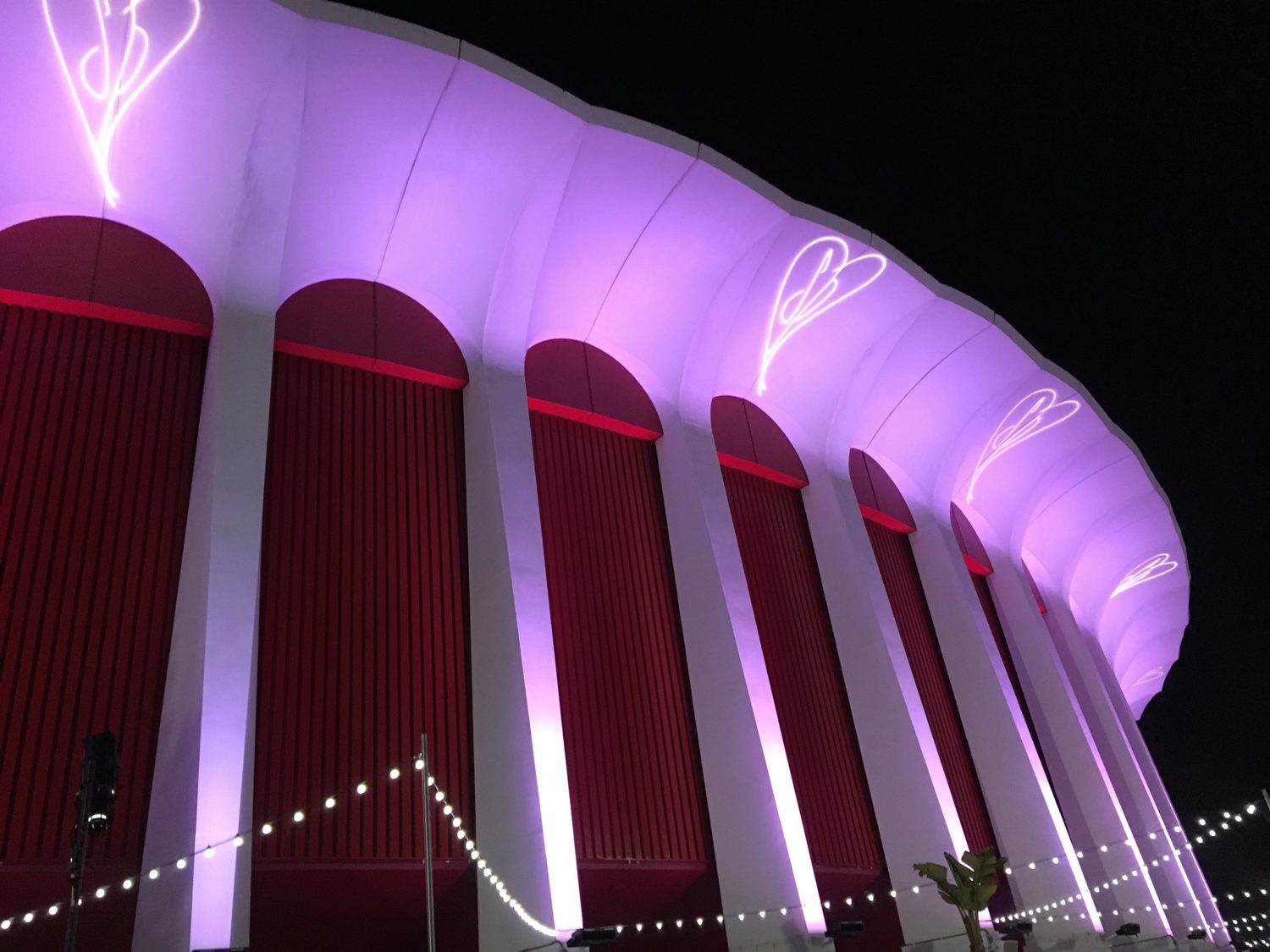 "Planned a show, trees and balloons.." A three hour rock marathon at The Forum
Marissa
Niles, US
My very best memory of a Gish song by SP was during the Shiny and Oh So Bright Tour, August 2018. My sister and I flew out to California to see them at the Forum, after seeing SP perform in Chicago, we decided one show wasn't enough, this was such a special tour and had to experience it again! When SP began performing Rhinoceros, with the visual backdrop behind them showing a timeline series of video clips throughout their musical journey, it was then I became so overwhelmed with excitement knowing at that moment what we were about to experience, a performance of a lifetime! No other concert or performance will ever come close to those nights of the Shiny tour! It was pure magic, memories I'll cherish for a lifetime and hold on to forever! Now when I hear Rhinoceros I'm brought back to those fantastic nights during the Shiny tour, and relive that magical feeling all over again. 💜