That First Listen
Joshua Bolinger
Plainfield, Indiana, US
My dad would used to always talk to me about SP and I respected them but I wasn't the biggest fan. Until a couple months ago i heard this album. Its so haunting and it touched me on a personal level. I remember crying as soon as it was over and ranking it as my second favorite album of all time. It truly is the soundtrack of adolescence
16
Susanne
Vienna, AT
I was sixteen when Mellon Collie came out. I played it every day for weeks, months. Every time I listen to it from the beginning onward, it brings me right back to sitting on the brown carpet in my room, putting the CD into my CD player and feeling a tingle on the tip of my tongue, the promise of a world that's out there for me. I was not alone, there were others.
Surviving high school
Robert
PA, US
I got this album after asking for it for christmas when i was about 14. I remember being amazed as i still am at the vast span of different kinds of songs and I played this album among other SP albums in my walkman on the bus to and from high school. It helped me get through the rough days and many mixed emotions one has as a teenager. Thanks to SP for making great music and I look forward to seeing you once again in concert.
20 Years Later…
Gerry Hitchcock
Mexico City, MX
I discovered SP first through Pisces Iscariot; my father have just died and i had a bunch of albums my family gave me as a gift my previous birthday… i was mourning him and at the same time trying to cheer me up listening to diverse artists. A year went by and suddenly i begin watching this cool videos pop through MTV, all the aesthetic, music and lyrics got me very interested, so i went to my local record store but the album was sold out, i had to wait for months until i finally bought it. I remember being with my friends listening music all day; we reserved the best albums for the night and listened to Mellon Collie in an almost religious way, smoking pot and just getting lost in the album, sometimes we sang it along, sometimes we just enjoyed the music…
A couple of years later i had my first girlfriend and a lot of the songs took a deeper, more personal meaning, it was the soundtrack for our love until i said i wanted to marry her and she told me all have been a lie, to distract her parents while she was having a lot of affairs with different teachers and classmates at college. When it happened (year 2000) i just couldn't listen to any SP album anymore without feeling devastated and heartbroken. It was until Zeitgeist that i listened again to SP (and i found the album brilliant btw) but couldn't listen to Adore, Pisces or Mellon, the music still remimded me a lot about her, i had a new girlfriend then but i was emotionally crippled somehow. Fast forward to 2020, i find Shiny and Oh So Bright and got hooked, then Cyr obsessed me with SP again and it finally happened: listened to MellonCollie in full since 2000 and it felt SO RIGHT! I remembered the best memories with my friends, rediscovered a classic and started listening frequently since. No more bad memories, just the joy of listening to a masterpiece!
I'm thankful to that girl for betraying me because due to that i found my real talents and set them into motion, i learnt to play bass, went to video editing, film school and now i have the greatest job, always in company of the greatest music, Mellon Collie being one of the most important albums in my sonic universe. I will buy the deluxe vinyl if i find it available someday, meanwhile i will play the CD to death.
Thanks for being a part of my life and writing such great and diverse music, i hope when i die i will have all this songs tattoed in my soul, i want to listen even after death!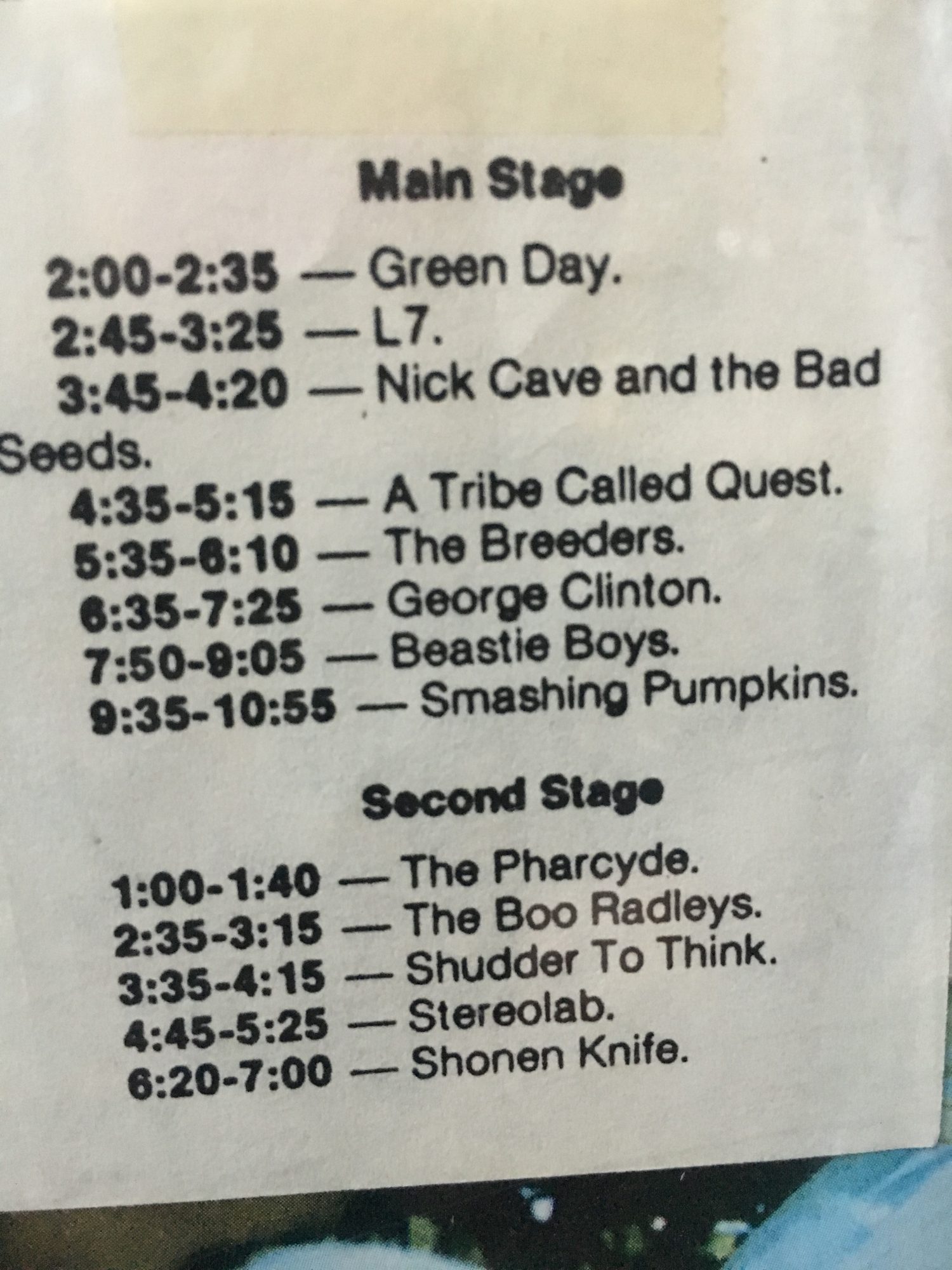 Time to grow up…
Mike
Clear Lake, Texas, US
95 was my senior year in college and had only discovered the SP a year before during Lollapalooza 94. Now MCIS comes out 10/24, a week before my bday. I bought MCIS, made a cassette copy and gave it to the girl of my dreams. I graduate December 95, and don't land a job till May 96… In those 5 months, I lost my girl, my bank account went almost to 0 without a job and no one was hiring at the time. I occupied myself by continuously listening to MCIS trying to decipher it and my life. I realized during reflection I was a childish prick. Fast forward to August 96, I am in West Kalimantan Indonesia, working 6 days a week, blasting MCIS at the man camp I was living in finally feeling that I needed to stay in this world.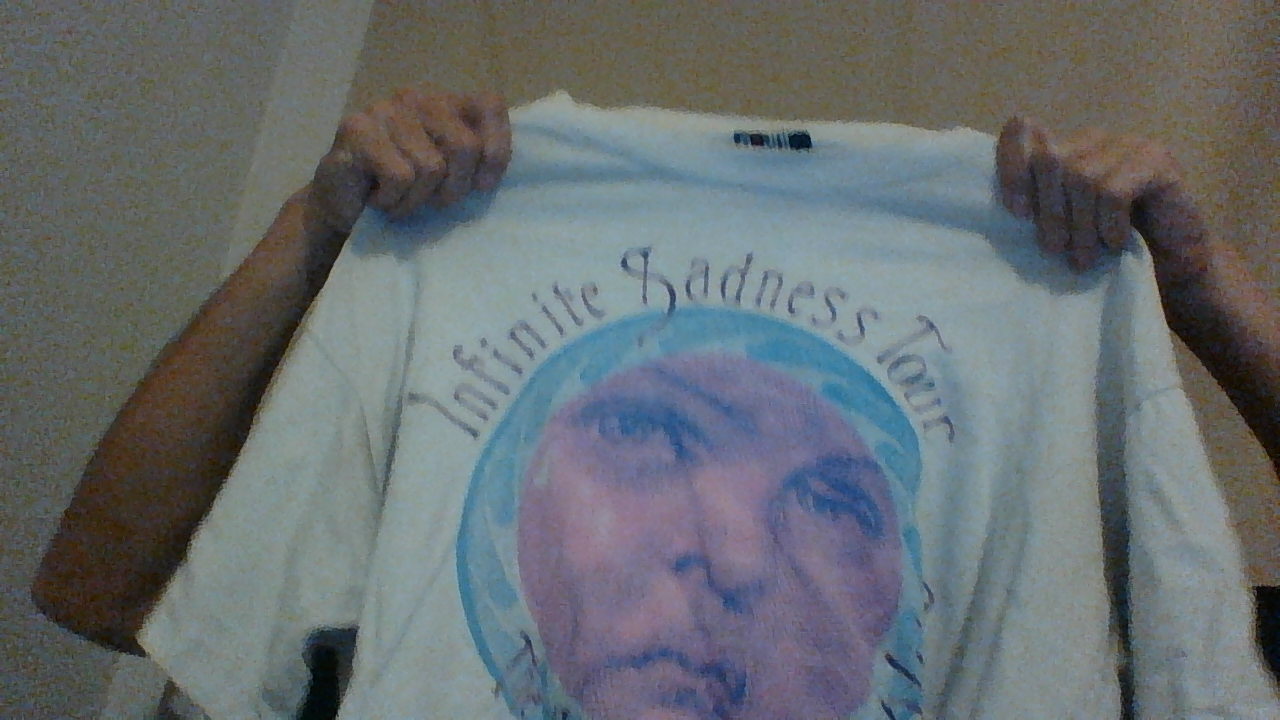 A Classic album still after 25 years.
Sam Sandilla
Tampa FL, US
Been a fan since the days of Gish. I was going to college at South Suburban College., during 1995. Had XRT, and Q101 playing most the time of my headset. I didn't see a show from this era. Was lucky to hear the "Blackout Show" on the radio. Seeing "Bullet with Butterfly Wings." On the TV. Knew that is album was going be epic. (Still is). When to the record store. I wanted to get this. Not until 2000 I finally got this, with Machina that year. (The t-shirt is from the tour, and not a reprint)
Brixton Academy
David
Edgatown, MA, US
My one and only show was at the Brixton Academy, May 15th 1996. It was a great show given the circumstances of what you had been through. I was grateful but sad for the band at the same time. D'arcy stopped the show at one point when it got rowdy out of fear something would happen again. All I can say is, I was ex-pat from Boston and I had been a fan for a while. Mellon Collie, O'K Computer and Grace got me through some tough times in London. I went to Kalamazoo with Molly Wretsky circa '88-'90. I didn't know the connection until after I had left school. I was living in New Haven, CT and our local paper listed Gish as one of the 10 best albums of the year . I bought it and instantly became a fan. Thank you for all of your great music and for being true to yourselves. I greatly appreciate what you had to say about Rush on Beyond the Lighted Stage. Presto got me through my time at Kalamazoo and I was at the Auburn Hills show they included on their last DVD. Music can save lives and yours and Rush's have done that for me. All the Best to you and your families! David
The Infinite Search
Felix
Los Angeles, US
I was born in December 1995.
Safe to say, I missed out on the hype, praise and astonishment over the initial release of Mellon Collie & the Infinite Sadness two months prior to my birth. I discovered the Pumpkins way later, in 2010, and after running through their first two masterpieces; Gish and Siamese Dream I came across their magnum opus, the album which was to become the sound of my youth.
It's a strange feeling, describing Mellon Collie, because nothing else compares to it – musically, lyrically, thematically and aesthetically, it creates its own reality.
28 songs, where no two songs share a common root, where no two songs touch on the same subject. To my 15 year old self, the album incapsulated everything I felt at the time and everything I was searching for. Sadness, restlessness, elation, love and boredom were only some of those feelings. Listening to the album was like entering another world through a rabbit hole of tone. It brought nihilism, but also hope. It was falling in love but also out of love. It was simply, life.
The grandeur of the album is presented in a format which challenges you, and is especially challenging to someone who isn't familiar with many of its genres. This is without a shadow of a doubt the most diverse album to have ever been recorded.
It spawns everything from dream-pop (Cupid De Locke), metal (Jellybelly, Zero), alternative rock (Here Is No Why, Muzzle, Bodies), folk (Lily, Goodnight), prog-rock (Thru the Eyes of Ruby, Porcelina of the Vast Oceans) and many, many more genres.
The selling point of Mellon Collie is not that it has something for everybody, its that it has everything.
The songwriting is immaculate, the overarching sadness and darkness tangible, and the scope endless. With lyrics such as "tell me I am still the man I'm supposed to be" (Galapogos), and "I fear that I am ordinary, just like everyone" (Muzzle) its clear that Corgan was in a complete state of focus and translucent thought when writing this record. The lyrics are sentimental and personal, but never detached. They feel real, they feel as real as anything else I've experienced. I can't say the same for many other albums.
I've cried to By Starlight, I've jumped up and down to X.Y.U. and been jealous of songs like Beautiful and Thirty-Three. I say jealous, because this album inspired me to start writing my own songs over ten years ago, as I'm sure it has for tens of thousands of other teens.
Ultimately, I must have listened to Mellon Collie & the Infinite Sadness over a thousand times by now, at least once a week since I first discovered it. It is without a doubt the only album I would take to a desert island, and the only album I can say is truly flawless in its deliverance and message.
And so I thank you Billy. I imagine it was all but easy for you to make this record happen. You gave us the pinnacle of alternative rock, and to me – the pinnacle of my musical experiences.
It's the only
Vividness still with me
Christopher Lewis
Houston, Texas, US
I am older now but i remember like it was yesterday when i heard my first pumpkins song Bullet with butterfly wings off of the double album on MTV. Ha now I'm really showing my age. I was sooo impressed with the sound and cadence of the song. Soon i heard 1979, and Thirty Three and I was in love. I had never heard such beauty in sound, rhythm, and lyricism. I purchased both the double cassette and cd and hung the poster on my wall. I lost most of my treasures in a flood but the memories are still with me. I went on to enjoy other albums from them and many of the b sides i have collected over the years. I want to say i love you guys you made such an impression on me as a young person, and I hope to hear when you do next peace.
Young Again!
Danni
Chicago, IL, US
When I think of the album Mellon Collie and the Infinite Sadness I am reminded of being 22 years old, smoking MJ and sitting at my yellow vintage kitchen table in my Bucktown loft apartment painting cigar boxes and listen to one of the best albums of time. Great memories! Thank you Smashing Pumpkins!
3rd row seat at the biggest show in the World-first Pumpkins concert.
Erik
St. Paul, US
From the first time I heard Cherub Rock, I knew a great band had arrived.
4 Siamese Dream, and 2 Pisces Iscariot cd's later I found myself walking into the Target Center in Minneapolis. My friend and I were chain smoking Northern Lights as our pre-rolled cigarettes made it inside to row 3! Silver pants, zero shirt, bald head. The guitar between Corgan and Iha insanely great. Darcy reminded me of Sesame Street and Matt Walker was on, but I wanted Chamberlin, didn't we all. I'm happy to say
I went to Adore outside 7-17-98, Machina at the Northrup, Zwan at First Ave, Zeitgeist at Roy Wilkins, then Oceania at Roy W and lastly Shiny and oh so Bright in 2018 at Xcel. I love SP. Blinking with Fists, SP tattoo, MCISin 1997 in France-FN great show! So glad the Xanax I had laced with Morphine didn't kill me as I took the train home in the wee hours after the show in 2018, St. Paul. I kept hovering above my body and could see that I had a "Believe in Me" shirt for my 6 year old. I'm alive.
The Aeroplane Flies High!
Erik
As most things, A Girl was involved.
Mark
Oklahoma City, OK, US
I was dating this emo girl back then and she put on this album, and skipped to Here Is No Why, but half way through she skipped it to Zero and acted like HINW was a mistake. I remember thinking "hey, that was a great song, I was into that". And asking her why she skipped it. It was because it was a "happy" sounding song, and she was, well an Emo girl. After I got off work that night I bought the cassette and never looked back, to this day I still love that album and Here Is No Why.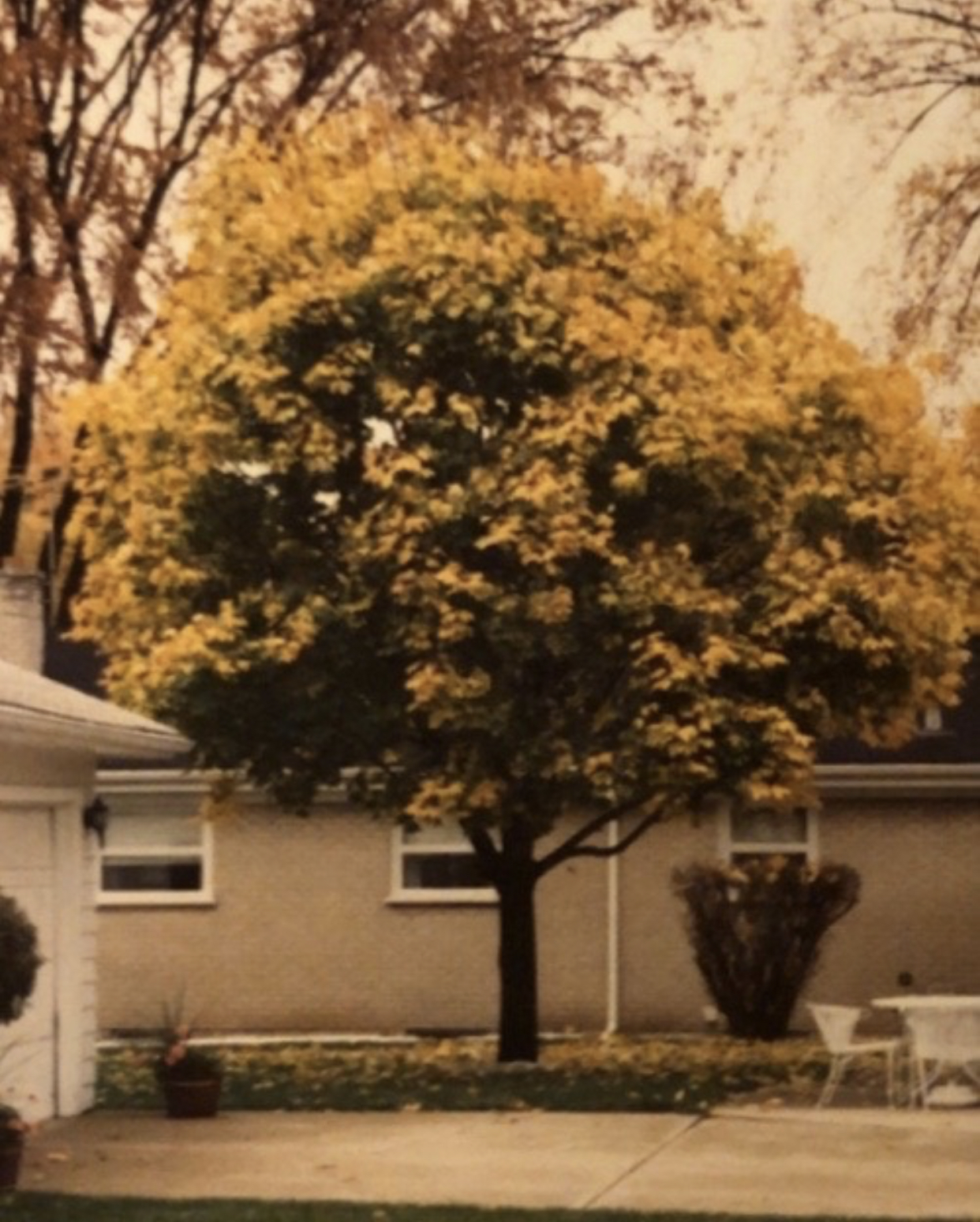 Where do I even begin?
Laurie Kristin Bazaar
Greensboro, NC, US
Well, the picture is of me, when I was 1 or 2 and my Grandma Victor in Arlington Heights, IL. Circa maybe 1975-76? Not exactly sure. It is all blurry after this photo. My Grandparents lived right on Arlington Heights Rd. I was born at Northwest Community Hospital in Arlington Heights in 1974, moved to NC when I was 13 (stepdad job transfer and then some) and graduated from Northwest Guilford High School in 1992. Weird, yes, but not the only interesting correlation in my life so I guess I am used to it. Didn't know there was a new album until today so I will be listening to it tonight. Thank you.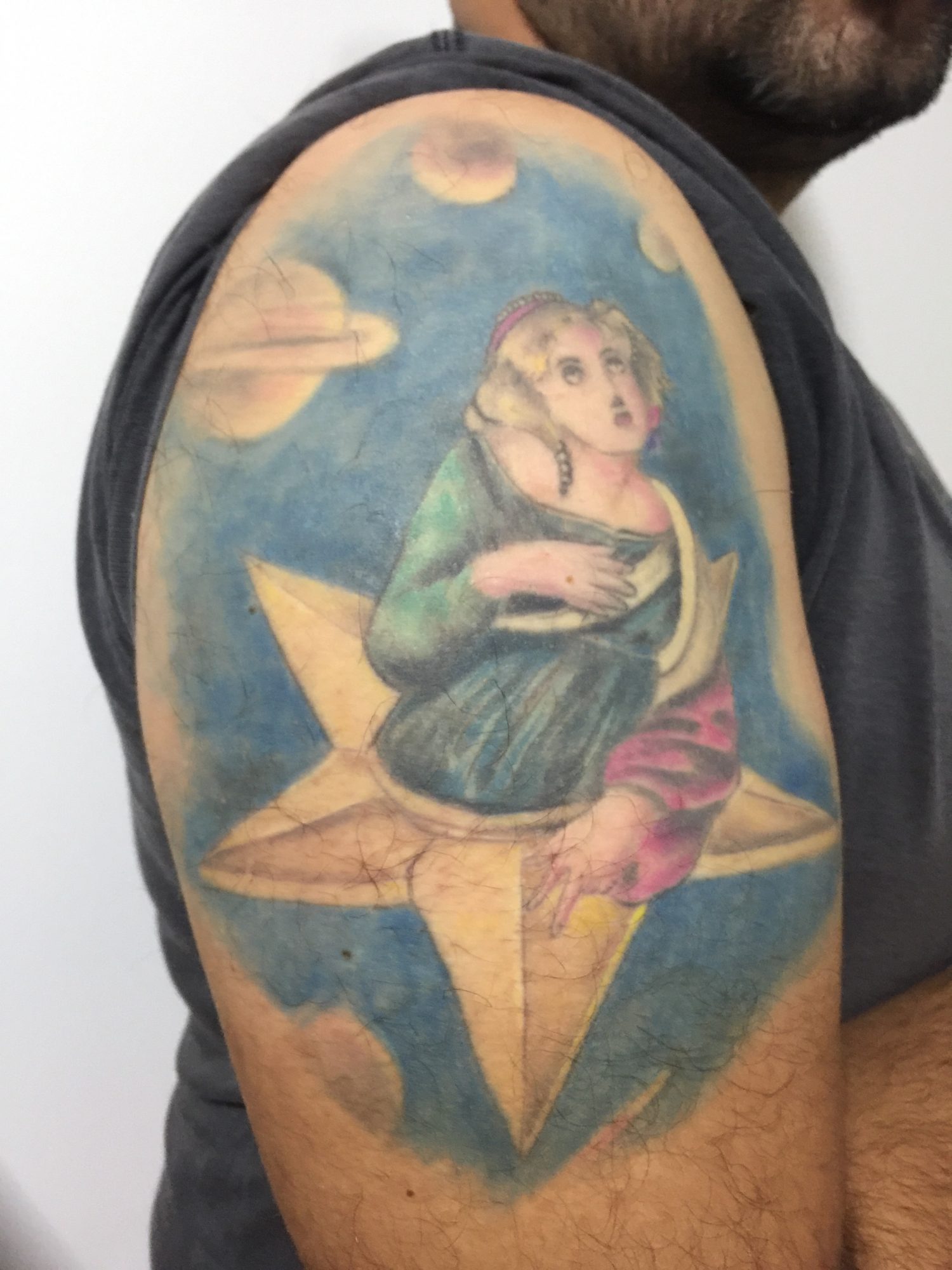 soñábamos ser como los del video de 1979
Diego Cono
Buenos Aires , AR
En esos años con mis amigos íbamos mucho a recorrer ferias americanas a revolver ropa y ver si encontrábamos alguna prendas que se parezcan a las que usaban los chicos del video. Los mejores recuerdos de mi adolescencia van de la mano con Mellon Collie And The Infinite Sadness
Twilight to Starlight
Jaimie Rain
Wellington, NZ
I knew who this band was, and I was weary about them, 'Today' and 'Disarm' had been all over the tv and radio, and I was trying to decide whether they were an edgy rock band or a lame wussy college indie band. Anyhow, I came home from school one friday afternoon, turn on the radio, and 'Bullet with Butterfly wings' came on, I turned it up really loud, I thought it was the greatest thing i'd ever heard. The next day whilst watching the trusty saturday morning new release show on the tv, it came on again, I rushed to the tv, I plugged in my microphone into the stereo, and recorded it off the tv onto a blank tape. The sound quality wasn't that great, but I didn't care, and i must have played and rewound that poor quality recording over and over again for weeks. It would be another 2 months until christmas came around and I was able to go to the music store and buy the album. It was a double album, so it was 2 casette tapes in this cardboard cover. It felt like you were getting 2 for the price of 1! Anyhow, as soon as you press play, the album begins with the titicular track,a 'nice' piano piece for a minute or 2. It's like the beginning of a magical journey. And it IS a magical journey. This wasn't a grunge album or an alt. rock album, this album was soo varied. It was filled with loads of songs that were clearly 60's-70's influenced psychedelia and prog rock, but then other songs were fresh sounding angsty thrashing industrial rage, and then would go off onto some mellow interlude song before exploding into a radio friendly pop rock jingle. It is chaotic and schizophrenic, it is bi-polar disorder in musical form, it's a piece of art, and it is theatre. And 'Floods' production, it's not all cleaned up overproduced radio rock, It was murky, it sounded like it was recorded underwater. This album was in my walkman whilst I walked through Porirua cemetery every day heading to school, and I'd have it playing constantly as I sat alone at home playing my Sega Mega Drive afterwards. Most of the time when an artist does a double album, it can be 'career suicide', it can end up being a big bloated mess that is has too much filler, and is too time consuming to sit through. But this album was not like that at all, I'd play it constantly and months later, have songs I barely noticed before become my new favourite, it never got tiring. The Smashing Pumpkins, if they had quit after this point would have gone down as a legendary band, this was their 'White album' and no matter how hard they tried they were never going to reach this height again.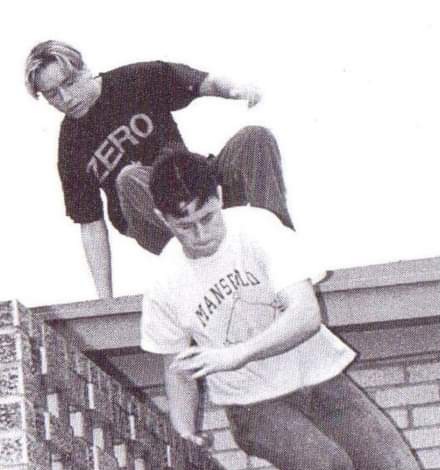 1997 High School Rooftop – Zero
Shaun Perry
San Angelo, US
I got caught jumping off of the roof of my High School, and immortalized in my Zero shirt!
The Great Pumpkin
Jamie
East TN, US
Of all the hearftfelt, relevant, life-affirming truths worth sharing with you about the value of this band's music to my life, I have chosen to relate the tale of Charlie Brown, the Atlanta Fox Theater, and a postponed concert during Halloween week approx 2008. Jimmy had had a medical scare, and we were to be told later when/if another date could make it up (a major blow, but understandable as Jimmy is a national treasure, irreplaceable). My spouse and I were beyond disappointed for our own sakes as well (let's be honest, humans can be selfish in the same split second as they are compassionate to others in need). Our early love of SP separately as kids allowed us to understand each other quickly in our courtship, so the band was important to us on a deeper level, and we were despondent over the news, so long-time coming we were in finally getting to seeing in person the band that had initially riveted us together. Crestfallen, we aimlessly wandered the street after the news at the box office, ending up in a bar. The TV above our seat did not distract with sports or news drivel. Instead, it persistently implored to us from the year 1966 in Linus' voice, "The Great Pumpkin will come!", a surreal experience. Prayers for Jimmy's well-being were answered, and the Pumpkins returned, the foreteller correct. I'd like to think we were the most sincere from our little patch, as Linus promised. Thank God for Jimmy, for Love, for Charles Schultz, and for the greatest band of all time! God bless you Billy, James, Jimmy, Darcy, Jeff and crew. We love you so much!
"And in the eyes of the jackal I say ka-boom!"
Patrick
Millau, FR
So I was only 9 when this album came out and luckily my oldest sister had it in her collection. So one day I heard Bullet with Butterfly Wings on the radio back home on 99X. As you all remember at this time if you didn't catch the title of the song from the dj, you had to ask around till you found out who it was. I asked some of my family, friends, people on the school bus, and after a few days you would forget the tune or maybe you didn't even hear the words correctly in the first place. So when you would ask people and sing it to them they would have no clue what song you were singing. Eventually I heard the song again and I was lucky enough to be with someone older who knew. Then the hunt started. Dad's cassettes and CD's. Middle sister's cassettes and CD's. (on the down low, sneaking into rooms because people's music collections before the electronic age were fiercely guarded). Then I found it in my oldest sister's room, not in the case, just by chance I opened the disc changer and voila. I asked to borrow my dad's CD player and it was awesome. Over and over again. This was only Dawn to Dusk. Because I hadn't seen the album case up until that point I didn't discover Twilight to Starlight until prob over a year later. Great album. Opened the door to punk, rock, and many other genres. Still listen to it often cover to cover.
Smashing pumpkins forever
Sophie
Amsterdam, NL
I remember my brother bought MCIS. I was 12 years old. I remembering i loved it so much i painted a huge SP heart on the walls of my room. Listening over and over and over to the songs. I felt like they were singing for me. About me. It felt i wasn't alone anymore. The music was everything to me. I remember looking at the artwork and the lyrics. Such a gesamtskunt/art, multilayered, profound cd. I remember nothing of the other artists of that era like Nirvana and Pearl Jam just captured my heart like SP did. It was like i was connected to them in a deep sense of not belonging, of being the outsider. I remember this concert in 2000. Billy handed me the mic, and i got to meet Billy, Jimmy and Melissa. It changed my life profoundly and had such an impact. One of the best days of my life. SP forever!
2nd to Last Show
Logan
Asheville , US
So, I tried to see my fave band in 1994 on Lollapalooza but unfortunately…it didn't work out. So as a record store employee…I couldn't wait for the Mellon Collie release. I will never forget the monday night when my supervisor called me and told me that we had recieved the Mellon Collie promo CD. I jumped in the car and drove the 10 miles to the store to get it and take it home for a spin. I remember being overwhelmed from the start. I couldnt wrap my head around how amazing this was. I listened to it twice that night before going to high school the next day. I remember the Pumpkins on Rockline and breathlessly waiting to hear to tour dates. The closest to me in south Alabama was a date in Layfette Louisana. I bought tickets the minute they went on sale. I had no idea that the tour would get turned upside down before they made it out of NYC. I was so disappointed when I heard about the cancellation but stayed glued to MTV(yuck) and radio for any news of make up dates. This was before info was easy to get on the internet. I will never forget seeing them in Atlanta and Lafayette in 1996. However, my fave show was the second to last show on the MCIS tour in Pensacola Florida. They changed the setlist from the previous leg and we got to hear both Rocket and Rhinoceros. They also played the longest jam on Silverfuck ever. I almost got thrown out for recording the show on a cassette recorder. Luckily, we were able to see in my opinion that LAST great arena concert of my young adulthood. I will always remember the excitement I had that night walking into the Civic Center. And as a bonus…we got Fountains of Wayne as the opening band. Legendary. Thank u SP. I have seen you many times since in smaller clubs like the Metro and I hope to see you again soon.
Two Generations of Pumpkins Fans
Kennedy Chun
US
In 1995, my mother bought my dad his first ever Smashing Pumpkins CD, which just so happened to be Mellon Collie and the Infinite Sadness. Cut to 23 years later, I find that very CD downstairs and was immediately hooked. Through that CD, my father and I grew closer listening to it, discussing its meaning and lyrics. We jammed out to A Bullet with Butterfly Wings and Thrity-Three like no one else could. I will never forget the car rides we took together, and how he would drive extra slow on the way home so we could listen to 1979 to completion. Music has always brought us closer together, and this album will always be a part of that.
I Love My Mom
Drew Taylor
Louisville, Kentucky , US
In 1996 I was in the 5th grade and Bullet with Butterfly Wings was played on the local rock radio station. I had to have this new Pumpkins album. My mom bought me a copy from the record store. All of my young friends thought my mom was cool for getting me the album, and she was. My mom had been a music lover since the first time she heard The Beatles in her youth, a love of music we shared. I lost my mom to cancer in 2016, but my love for her and the music remains.
Got sued!
Jodi
Boulder, CO (formerly Columbia, MO), US
I wrote Mellon Collie song lyrics with sharpie marker all over the walls and doors of my apartment and got sued when I moved out. yeah, I kinda related to the album 😉
Palais des sports de Paris
Samuel
Paris, FR
The day Mellon Collie was released, we had not a lot of money, so we bought the 2-cassettes version. I've listened to them a thousand times. Now I have the 4 LP item. A masterpiece of my record collection 👌
Turning Point
Xavier
Seattle, WA, US
I grew up in the Seattle Grunge scene, so I mostly listened to Nirvana, Pearl Jam, Soundgarden, AIC, and the like. I was heading home from a friend's house in Portland on Christmas Eve 1995 when it began snowing. I couldn't see anything and ended up taking the wrong exit and veering completely off course. Eventually, I got to a tiny backwater town close to the state border. After taking a few minutes to figure out where I was, I remembered that one of my friends from high school lived in this town. I asked around and eventually found his house. He was glad to see me and we began talking about life when he brought up his new favorite album, Mellon Collie and the Infinite Sadness. He played the thing in its entirety and it blew my mind. At first, songs like Tales Of A Scorched Earth and Zero appealed to me, but now I feel that I prefer songs like Porcelina to those ones. I stayed the night and left for home on Christmas Morning. I remember driving home and hearing 1979 on the radio and thinking, "life is amazing!". I bought the album as soon as I got home. Thank you for turning my life around Billy!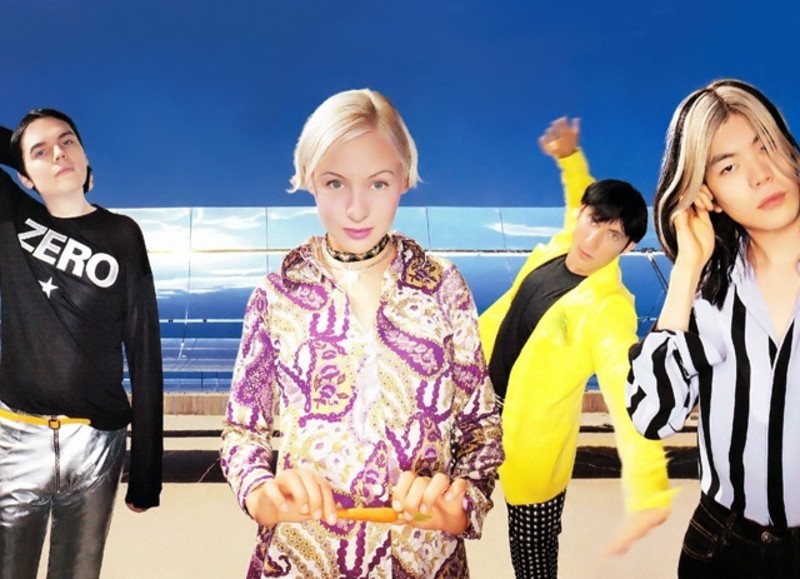 We're Off To See The Wizard!
Kevin Box
TROY, NY, US
Keep it short? The Pumpkins were everything to me from 1993 to 2000…and then reborn in 2007. MCIS was never what SD was to me but it has stood the test of time as a cornerstone of the catalog. I remember working at Nobody Beats the Wiz and when the store closed the night before release, having my copy and blasting it on the soundsystem overhead as we counted out the drawers and closed the store. While rage has been replaced by maturity and acceptance of that which we cannot change, SP have always been the words and sounds I couldn't emote constructively on my own.
One of Three
Jock
Lincoln, GB
European railway adventure for a month so took three albums to listen to. Every time I hear a song from MCIS it always take me back to Warsaw, Prague, Berlin, Vienna, Bratislava and the most beautiful city Salzburg
Opened up a world of sound to me
Logan
Houston, TX, US
MCIS came out when I was a freshman in high school. I was an avid classical musician – that's all I ever listened to or played. The girl who sat next to me in our youth symphony came in one rehearsal and was poring over the liner notes at a break. I had a hopeless crush on this girl. I asked her what she was doing and I will never forget the look on her face as she looked up and answered "personal enrichment". I went and bought the album the next time I had any money and it blew my mind. MCIS transports me instantly to that year – all of the thoughts, emotions, drama that suddenly engulfed my life in such an exhilarating way. So much has changed since then but I come back to it all the time.
In my life, sadness grants freedom to find the truth in me
Aaron
Chicago, Il., US
On my birthday '96 I walked away from h.s. forever to an acquaintance house who eerily looked like Billy Corgan circa '93. With my birthday money I bought one of his guitars. The one he taught me the simplest part of "Tonight, Tonight". The next day off to guitar center to buy the tablature book for MCIS. As I learned the songs, all the previously learned lies melted away to start to reveal who I am. Thanks WPC for your mind and words and the band for the sonic beauty.
Rat In a Cage
LeahFaith
New Haven, CT, US
Bullet with Butterfly Wings was the song that started my obsession with SP. Soon after that song released, I had to buy the album. Each night I'd sit on my bed and listen to the album on my cd/stereo system that was in my bookcase headboard and thumb through the cd insert an be mesmerized by the lyrics and musicality. It comforted me through some tough and lonely times. Around that year, I was reacquainted with my best friend, Greg. He moved back to the apartment complex that I lived in. We were in middle school. I fondly remember us just sitting in his room just listening and singing at the top of our lungs to this album. When high school hit and I got a job, my first purchase was a Yamaha strat. My friend's first purchase was a drum set. Our first songs we practiced together were the songs on MCIS. I remember signing onto AOL and searched the old guitar tabs to teach myself chords and riffs. Our fave songs to play were Bodies, Lily, Bullet with Butterfly Wings. Others on Siamese Dream weret Disarm and Mayonnaise. We sucked but we were rock stars!
My First Big Rock Show
Dean
Orange County, California, US
At age 14, after going to church shows in the area for a few years, I finally experienced my first big rock show. There was rock and roll. There was sweat. There was weed. And there was the hottest little Irish chick doing aerobisize through my heart for an hour just before it all took place. What an era. Thought it would last forever.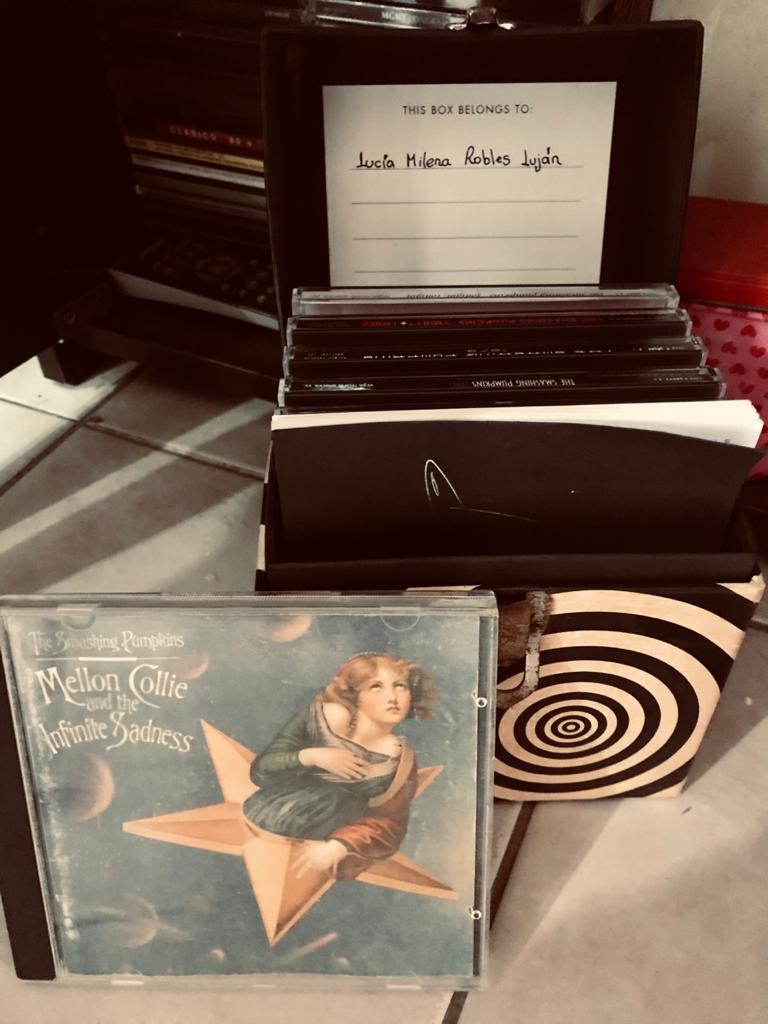 Unexpected gifts
Lucía Milena Robles Luján
Barranquilla, CO
My name is Lucía Robles and I live in Barranquilla, Colombia. In 1996, my father fell in love with the Mellon Collie and the Infinite Sadness and on a trip to Bogotá he bought it for me, because in my small city it was not possible to find it. My father does not speak English, for him it was very difficult to explain in Bogotá what album he was referring to, but he made it! Months later he surprised me with The Aeroplane Flies High. I cried when I discovered both gifts. I will never forget them and that is why I keep them as a treasure. We still hear it at home. The music of this amazing band has had a profound impact on my life. Thank you very much! <3
The album of my youth
Lauren Tucker
Seattle, WA, US
So many great memories of this album. It was the only thing spinning on my Discman for years. I still remember the feel of the brown paper liner notes. Always flipping back and forth as to whether Blue or Red was my favorite. I listened to the last four tracks of Blue before I went to sleep every night. I would wait in front of MTV for hours until a video came on so I could record it onto a VHS. The idea of something like YouTube at the time would have fully blown my mind. Also my first SP concert. They announced a special ticket release on the radio and I dragged mom down to Blockbuster Music (!) to score some. We rushed out to the store, but mom only had her checkbook when we got to the front of line. Random stranger behind us saw the look of devastation on my face and offered to take my mom's check. I rewarded my mom's efforts by taking a friend to the concert instead because I was in junior high and a total dick, so she waited for us in the parking lot, commenting on the beautiful music floating out from the arena. I got the concert tee and was so excited to wear it to school the next day that I tried to iron it (wrinkles from sleeping in it), and it still has the scars to show for it. Only concert shirt from those days I have managed to hold onto. Many conversations were had where I earnestly explained to mom, friends and whoever would listen what Billy meant with such and such lyric. 😉 At the time, my childhood bedroom was floor to ceiling Pumpkins on two walls, so I was a bit psychopathic with my devotion. And the album never ages for me. I put it on every few years and am transported back to the time while simultaneously the words take on new meaning as I "age out." I remember listening to Thirty-Three in my early thirties and being struck at how quickly it has all passed. Thank you SP for such a tremendous gift.
There was no sadness for me…
Miguel Fernández
Madrid, ES
Tonight tonight's videoclip still brings tears of joy and a smile to my face nowadays. I was maybe a bit young when the album came out, but I still managed to get a copy – and boy, what a blast! It was my first CD ever and I still keep it at my mother's home. May other 25 years pass and MCIS be still a breath of fresh air. Thanks for everything.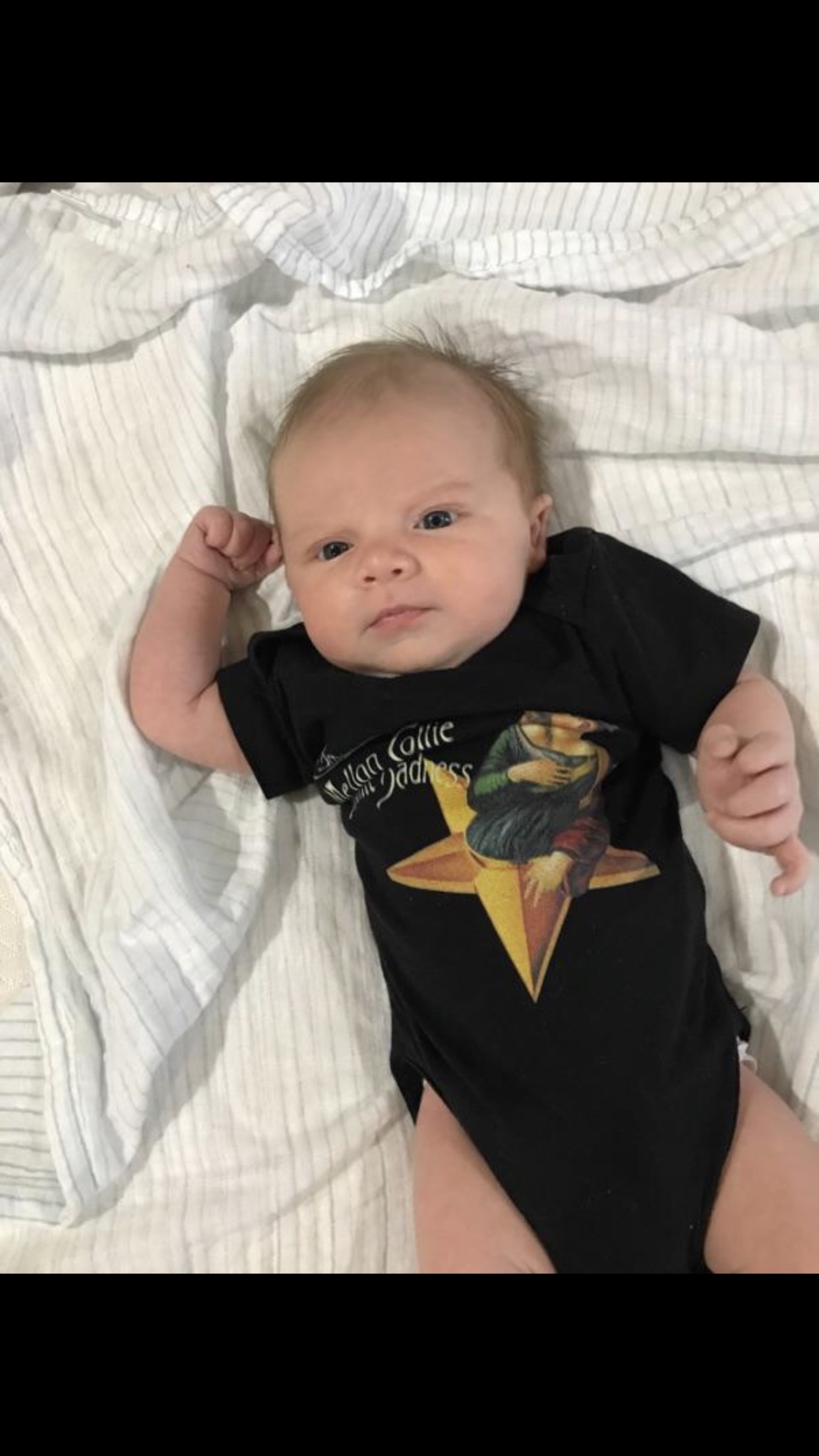 From fire to child
Jj crain
Jonesboro Arkansas , US
Memphis show was my first. ( with garbage ). As a teenager I remember a very dark moment in my room… " to forgive " came on and dropped what I was sadly about to do at 15 years old… I cried hard, heavy and everything just released.. fast forward to august 18th 2017 when we gave birth to my life saver ENOX CORGAN CRAIN. Thank you. One moment saved a life and helped to create another.
The first time I heard MCIS
Ciara
Richmond Virginia , US
My favorite memory of MCIS was the first time I listened to it in its entirety. I was brought to tears by the amount I resonated with it. I felt so much familiarity. Almost like I'd had these experiences or heard these songs before. It was the most beautifully absurd feeling I'd ever experienced.
freedom of new life
Scott
Herndon, VA, US
Oct. 25, 1995 My senior year in high school. I gave my friend a $20 and wasn't sure if I'd see it again in hopes he'd go to Waxie Maxies and pick up a copy. It turns out he did, it was life changing, and continued to live in my 12 disc changer forever. This record was simply life changing and continues to be a soundtrack of life. It is symbolic of many things, but to me, a new beginning to then unknown chapters of life, that continues to live on as we go on.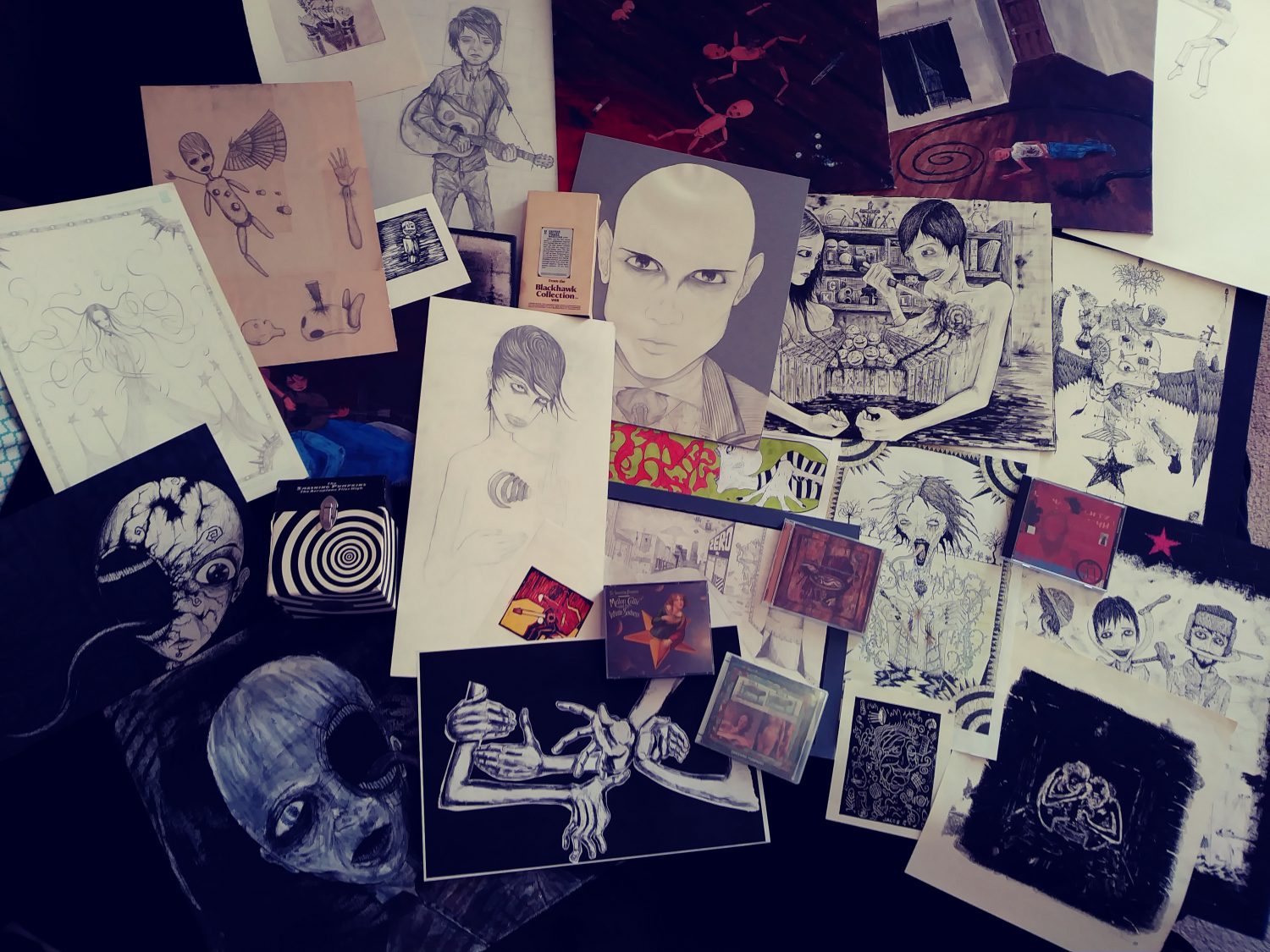 Méliès to Mellon Collie
Jacob
Seattle, US
In '86, '87 my Dad brought home the George Méliès: Cinema Magician documentary VHS. I loved it instantly.

I didn't grow up with rock music. My Dad mostly had film soundtracks, showtunes, classical, and singer/songwriters.
I got interested in music for myself around '93, '94 when I was in 4th grade. I bought Danny Elfman cassette soundtracks to Tim Burton films.
A grade school friend's Dad listened to lots of loud rock like Metallica, AC/DC, and our own little hometown's Nirvana.
As I got interested in rock I found my Dad had the 2CD The Best Of The Doors.
A friend and I had jammed a wire hanger into an antenna-less boombox to hear Seattle radio station The End come through to us in Aberdeen. Our families were both too poor for cable that included MTV so maybe I first heard the Pumpkins this way?
In 1997 my Mom was abruptly diagnosed with cancer. My Mom was on a medical bed for IV Chemo across from the TV in our living room. Our cable package just started carrying MTV. My sisters and I wanted to see MTV. The Tonight, Tonight music video came on. A Méliès homage! I loved the orchestration. It fit my love of soundtracks and interest in rock music.
Some time after my Mom died a small record store opened in town. I wanted a Pumpkins CD. There was Mellon Collie. I thought it was a "Best Of" like the 2CD Best Of The Doors. I was surprised to realize that it was a double-album. Amazing! As each track unfolded I loved them all. They were all different, it was like a soundtrack, and became my soundtrack.
I listened to the album all through high school along with the Aeroplane box, Pisces, Siamese, and the newly released Machina + Machina II.
Listening to these albums influenced and inspired the art I made in High School. These albums made me eclectic and ambitious. Mellon Collie was and still is mind expanding.